Once again, the Rotary Club of Kapaa is hosting the premiere fund raiser: Taste of Hawaii. There will be 7 islands of food and drink at Smith's Tropical Paradise serving the Ultimate Sunday Brunch. The finest Chefs from around the state gather to provide the guests with a tasting extravaganza second to none. By contributing to the non-profit efforts, you get to taste the best food in Hawaii. Then you get to wash it down with offerings from 15+beverage vendors providing micro brews, big name beer, wine (dozen of varieties), soda or bottled water.
Remember, parking for this year's event will be at Vidinha Stadium. FREE shuttles will deliver you to and from Smith's Tropical Paradise to enjoy the event!
When: Sunday June 5th, 2016, 11:30am – 3:30pm
Where: Smith's Tropical Paradise
Price: $100 online or $125 at the door
Tickets: buy your tickets online (tasteofhawaii.com)
Another great event was the recent unveiling of the Android version of the Kauai Beach Guide app. That's the app that has a daily ocean and weather report, lists facilities at each beach, tells you which beaches are lifeguarded and safest, GPS, and much, much more. The app is FREE at either Google Play or iTunes.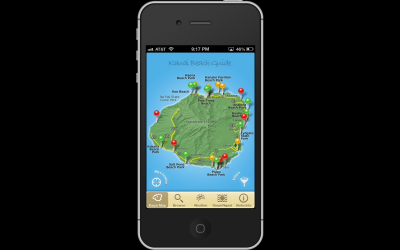 The map with pins showing green (lifeguarded) yellow (okay, but be careful) and red (don't swim here) beaches — part of the Kauai Beach Guide app.
Category : Blog